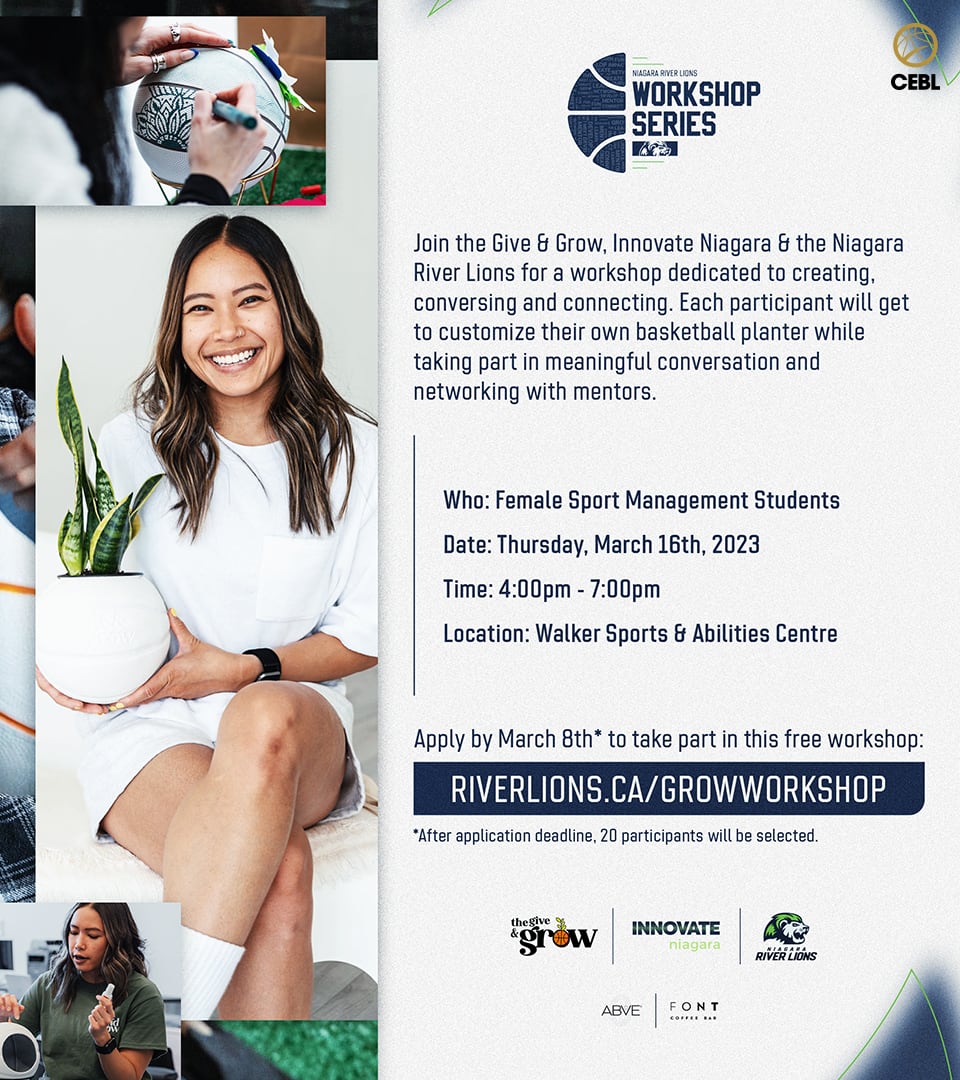 St. Catharines, ON – The Niagara River Lions today announced two initiatives set to take place this month that will aim to create opportunities for women and girls to connect and be surrounded by other female athletes and sport professionals with similar goals and aspirations. These events will aim to celebrate women's achievements, raise awareness, and take action to foster female empowerment in the days following International Women's Day which takes place on March 8th.
On March 11th, the River Lions will host an all-girls basketball session presented by Underprivileged Youth Development Foundation. This two-hour clinic, ran by high-level female coaches and Niagara College players will give young girls aged 8-13 the opportunity to learn and play amongst other female athletes.
The session themed, "BE your own HERo" will not only focus on basketball skill development, but will also include a mentorship component, where participants will hear about the coaches' journeys, and how they have overcome any barriers through their playing careers. Registration is now open at www.riverlions.ca/HERo.
On March 16th, the River Lions will host a "Give & Grow Basketball Planter Workshop" presented by Innovate Niagara. "Give & Grow" is a woman-led business centered around the purpose of growth while using sport as a vessel to encourage personal growth and development.
Female Sport Management students from Brock University and Niagara College will be invited to apply to take part in this three-hour workshop and networking event. Selected applicants will create and customize their one-of-a-kind basketball planter, while conversing and engaging in meaningful conversation with peers and mentors.
Participants will enjoy non-alcoholic cocktails provided by Ab0ve, and dessert provided by Font Coffee Bar.
Mentors for this workshop will include Olivia Ho, Owner, Give & Grow, Michelle Biskup, Vice President of Operations, Niagara River Lions, N'ora Kalb, Director of Operations, Innovate Niagara.
"As Niagara's Regional Innovation Centre, we know the power of mentorship and networking," said Jeff Chesebrough, CEO for Innovate Niagara. "Through our partnership with the Niagara River Lions we are thrilled to offer an opportunity for young women to meet like-minded individuals and provide them access to the esteemed lineup of mentors at the Give & Grow Basketball Planter Workshop."
Interested Sport Management students can apply at www.riverlions.ca/growworkshop. Applications will be reviewed by the mentorship team and 20 will be selected to participate at no cost.
This workshop will be the first of many that the River Lions plan to introduce leading up to and during the 2023 season. Each workshop will cater to a different demographic, but maintain the core values of networking, learning and growing.
"We are proud to introduce these two new and unique opportunities which perfectly align with everything that International Women's Day celebrates," said Michelle Biskup, Vice President of Operations for the Niagara River Lions. "As a woman working in sport, it is my pleasure to help inspire the next generation and pave the way for others. Our hope is that these two initiatives show young girls and women that there is a place and future for them in sport."
Media Contact: Michelle Biskup Vice President, Operations mbiskup@riverlions.ca