HeroDogTreats™
HeroDogTreats™ offers single ingredient dog treat products that support our Troops, the Canadian Service Dog Foundation, and contracts Community Living personnel. All of our products are all-natural, sourced from government-inspected suppliers. We like to say, "What you see is what you get, a duck foot is a duck foot and a chicken breast is a chicken breast." We have a wide range of products available nationwide; from chews like antler, bully sticks, to famous training treats such as beef liver. Treat your HERO - for everything they do.
Leendert Bolle and Annemarie Bolle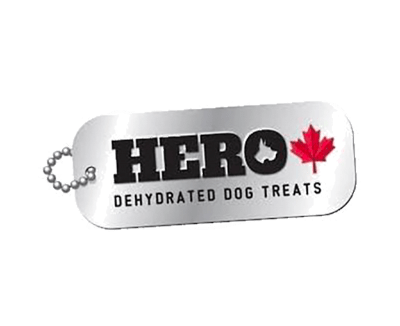 How Has Innovate Niagara Helped You?
Being slightly over-confident, we thought we knew the importance of accounting. As a visionary I thought I was smart to push that task to someone smarter than me. In doing so, I must admit, I failed horribly at truly understanding our books.
This is where Innovate Niagara has come to the rescue. In-house mentor Nick DiPietro immediately identified that the underlying issue was an epic fail in understanding our true overhead and costs. We were losing our hard earned money. Within 24 hours we were approved for a significant $5000 grant, and we started the ball rolling to regaining control of our company.
Although still a work in progress, we have been able to rebuild and re-launch our new and updated product line, which most importantly reflect the true costs and value. Innovate Niagara saw the potential of our business, trusted us, gave the tools and ensured our continued success.
Milestones & Successes To Date
We're gone from the startup phase when Leendert was still serving full-time in the military, where the business was quite literally created before breakfast, during lunch and after dinner, to now running the business full-time with three employees, and three kids under four.
The journey has been a great success, seeing +400% growth in the last year. The hard work of the team has resulted in your HERO's dog treats becoming available from coast to coast, sporting a truly professional look with brand new packaging. The teams dedication has made HeroDogTreats™ a force to be reckoned with in the Pet Industry.
Being an entrepreneur means...
I love where we are now, and I would argue that as long as we take daily consistent action towards our goals we are well on our way to pursuing the entrepreneurial dream. I read a quote once, "A student work for C students." I believe that being an entrepreneur means moving forward and that sometimes projects are better done than perfect, as long as you never sacrifice product quality.
Entrepreneurship is not easy, and I say, "Dream BIG." We are capable of anything; set small incremental goals, achieve them, innovate and never give up pursuing your dream.
How to Become a Client
Becoming an Innovate Niagara client is quick and easy, and there's no fee. 
01
Complete the Become a Client form online.
02
We'll schedule you a meeting with an advisor.
03
Meet with that advisor to plan your next steps.