Stephanie Thompson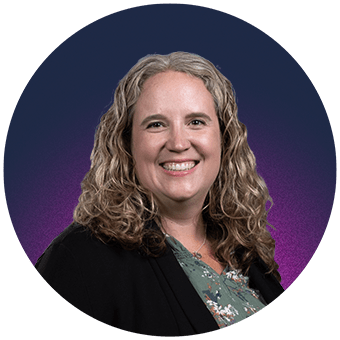 Stephanie Thompson | 
Director
Engineering Manager, General Motors of Canada
Stephanie Thompson is a passionate engineer and community leader who actively pursues new and innovative ways of promoting science, technology and learning in the Niagara area.
With an extensive 21-year manufacturing engineering career at General Motors, Stephanie leads Engineering and Quality Teams to launch world class production lines for engine and transmissions, managing capital investment projects for high performance vehicles. With more than 15 years invested in FIRST Robotics, she draws energy from supporting grassroots programs in STEM, particularly for women in her community.
In 2018, Stephanie launched her social enterprise, STEM by Steph. These innovative projects break down barriers by making STEM subjects accessible to all women. Since its inception, Stephanie has run 12 STEM workshops for hundreds of women both virtually and in the real world. Stephanie is routinely recruited to guest speak for organizations who support women entering STEM fields.
In 2020 and again in 2021, Stephanie was recognized by the Women's Executive Network as one of Canada's Top 100 Most Powerful Women. She was the winner of the GNCC Business Award for Science and Technology, and received from her alma matter, University of Waterloo, the 2020 Alumni Achievement Medal for Community Service. In 2021, the Women of Inspiration recognized Stephanie with a Finalist Award.
Stephanie holds a Bachelor of Applied Science in Chemical Engineering, a Certificate of Professional Management from Brock University, and is Professional Engineer in Ontario. In 2016, Stephanie graduated from the Leadership Niagara Civic Leadership Development Program. In 2021, Stephanie joined Brock University's Board of Trustees and well as Niagara College's Industrial Automation Program Advisory Committee.
She and her husband are raising their daughter to love STEM by exploring the unique eco-systems of Niagara.
How to Become a Client
Becoming an Innovate Niagara client is quick and easy, and there's no fee. 
01
Complete the Become a Client form online.
02
We'll schedule you a meeting with an advisor.
03
Meet with that advisor to plan your next steps.